Camberley Lodge Provides Financial Boost To Local Charity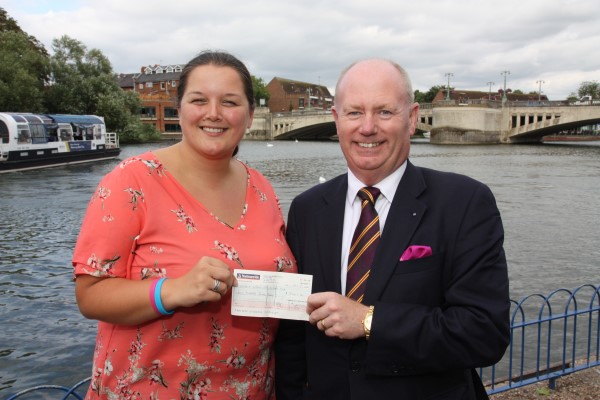 During his year as Worshipful Master of Camberley Lodge W.Bro. Kevin McSorley sponsored local charity Chloe and Sophie's Special Ears Fund. Mrs Karen Jackson the Chairman, Trustee and Founder of the Fund gave a moving account of the work of the charity at Kevin's Ladies Festival inspiring £500 to be raised in support.
This small Charity was the inspiration of Karen whose young children Chloe and Sophie are both profoundly deaf. The Charity's principal aims are to brighten the lives of deaf children by providing resources and equipment for deaf children to support their emotional upbringing.
The first photograph (above) shows Kevin presenting a cheque for £500 to Karen at the Crowne Plaza Hotel, Reading on 14th August 2018.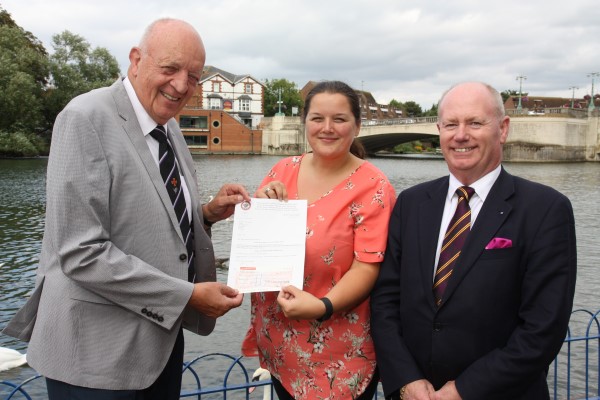 R Ill Kt Bob Hancock, Intendant General for the Red Cross of Constantine Division of Surrey, was a guest at Kevin's Ladies Festival, where he met Karen. He was so impressed by her work that he applied with Kevin, also a member of the Red Cross of Constantine, to the RCC Grand Sovereign's Care for Children Fund, who generously donated a cheque for £2,500.00 in support of the charity.
The second photograph (left) shows R Ill Kt Bob Hancock and Kevin presenting the cheque for £2,500 to Karen.
Camberley Lodge Ladies Festival Raises £1,220 For Local Charities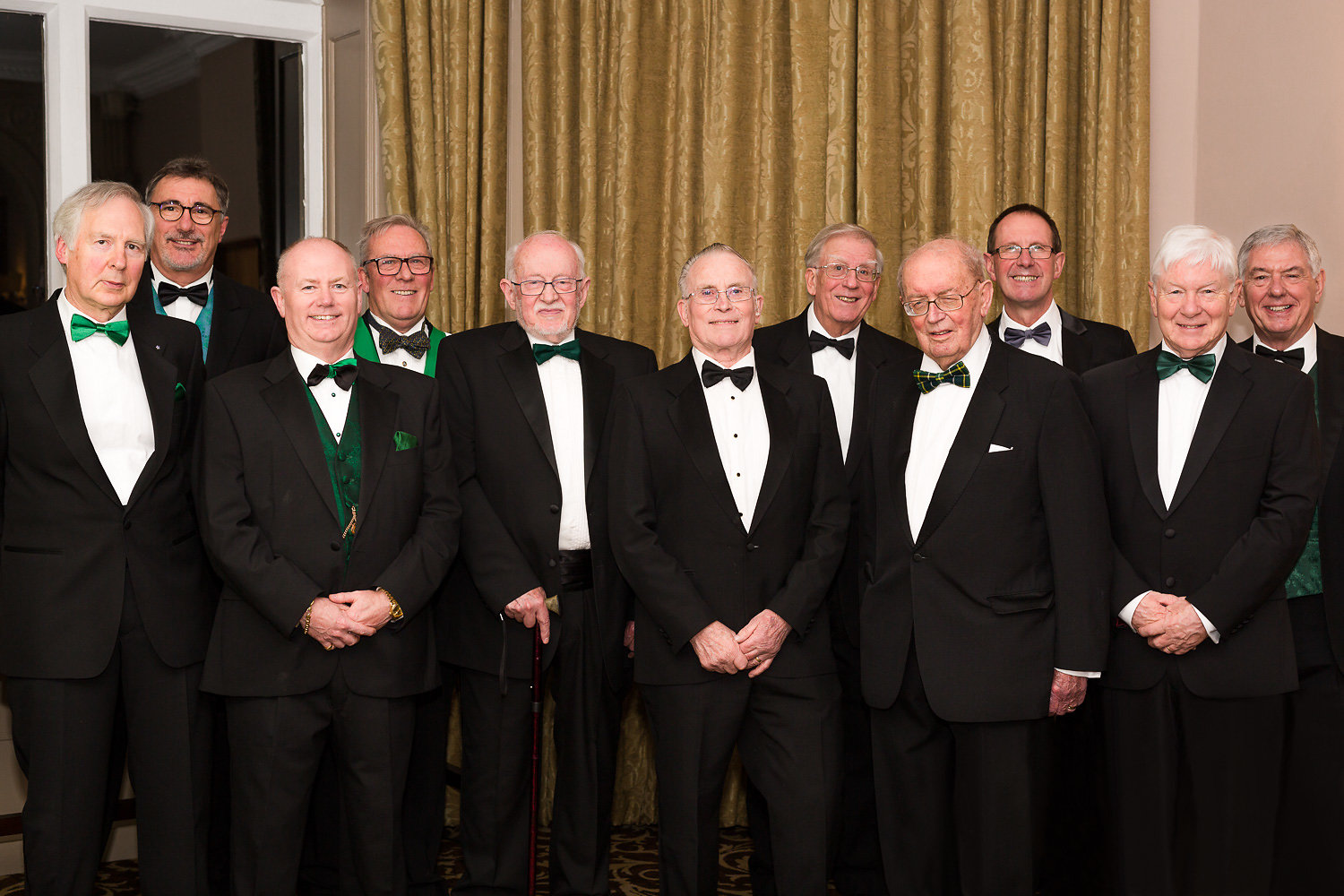 W.Bro. Kevin McSorley's year as Master of Camberley Lodge came to a spectacular end with an Irish themed Ladies' Festival held at Frimley Hall Hotel on St Patrick's night 2018. The photograph shows lodge members attending the event. A fantastic night of entertainment for friends and family took place with dancing into the small hours. £1,220 was raised during the evening and donated to two local charities, Disability Initiative and Chloe's and Sophie's Special Ears Fund (CSSEF).
2018 Trip to Spain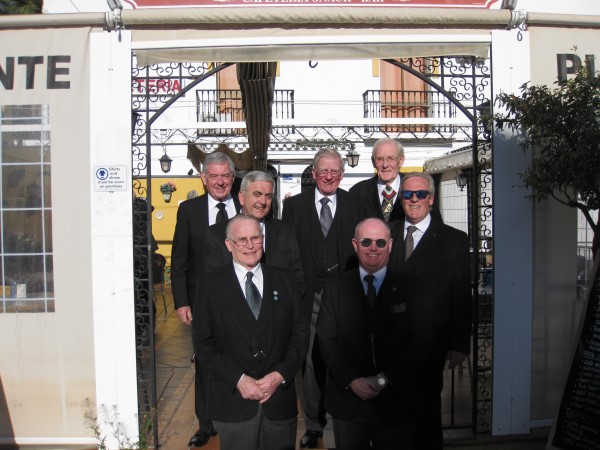 During February 2018 six members of Camberley Lodge made a visit to sunny Spain.
Whilst there they paid a fraternal visit to a meeting of Lodge of European Fraternity No. 52, Spanish Constitution, meeting at Hotel Playa Maro, Nerja.
Shown in the photograph are the six members of Camberley Lodge, together with W.Bro. Sandy Shingler of the Spanish Lodge.
Fortunately for the Camberley Members all of the Lodge proceedings were conducted in English, even though the Worshipful Master of the Lodge of European Fraternity is Spanish,
The whole evening was deemed a great success and was followed by an excellent and enjoyable Festive Board. Everyone had a great time and were made very welcome by the Spanish hosts.
In addition to the Lodge visit the opportunity was taken to do some sight-seeing in Malaga, Torre del Mar, Maro and Nerja.
Most welcome was the escape from the English winter, to enjoy a week of balmy temperatures in excess of 20 degrees C.
Demonstration of Scottish Third Degree Ceremony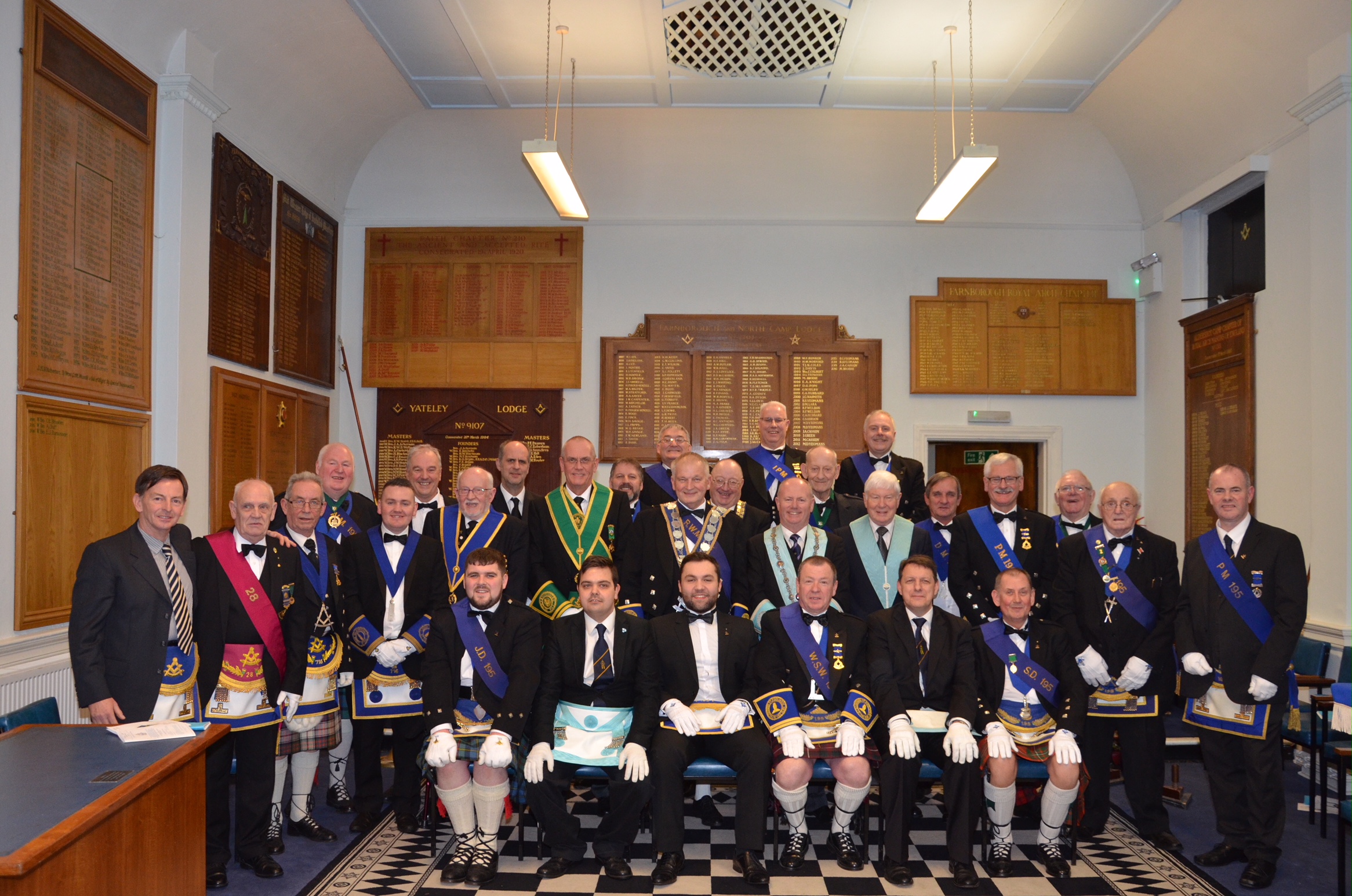 In February 2018 a delegation of Scottish Freemasons from Lodge Caledonian 195, together with a number of other Dunbartonshire Lodges, visited Camberley Lodge to demonstrate a Scottish Third Degree Ceremony at Farnborough Masonic Hall, The whole ceremony was handled with panache with ritual theatrically presented. After the ceremony a magnificent Burns' night Festive Board was held. The photograph below shows many of those present.
The meeting was honoured by the presence of the Past Provincial Grand Master for Dunbartonshire, WBro John McCormack, pictured with WBro Kevin McSorley Worshipful Master of Camberley Lodge and W.Bro. Keith Buist of both Camberley Lodge and Lodge Caledonian 195.
The photographs below show WBro Tommy Groom leader of the Scottish Delegation and RW Master of Lodge Caledonian 195 greeting WBro Kevin McSorley, Worshipful Master of Camberley Lodge and accompanied by the brave candidates from Camberley Lodge for this and a previous Ceremony, Bro. Gavin Munday and Bro. Mike Earle.
2017 - 2018 Worshipful Master and Wardens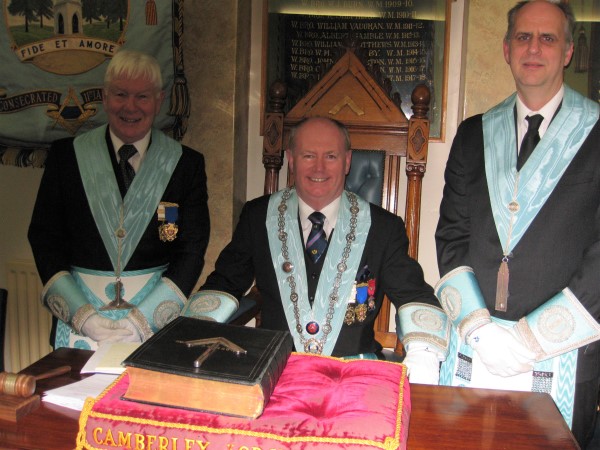 Shown in the photograph are: (from left to right) Senior Warden Bro. Alan Prosser, Worshipful Master W.Bro. Kevin McSorley and Junior Warden Bro. Peter Tull.